Remember Chrysler? The once formidable American automaker now only has three cars in its lineup with the Pacifica, Pacifica Hybrid, and 300, and one of those is set to be replaced in the near future. After 13 long years in production, the 300 is getting ready to bow out. Chrysler hasn't provided any official details on its successors, but Mopar Insiders reports that dealers in Las Vegas got to see the all-electric vehicle that's set to replace the 300.
The outlet, citing unnamed dealer sources, claims that those in attendance saw a lot of parallels between the image Chrysler showed them and the teaser that the automaker put out at Stellantis' EV Day presentation in 2021. That image teased a sedan with a fastback roofline along the lines of the BMW i4 and upcoming Volkswagen ID.7. Attendees of the meeting also told Mopar Insiders that the Chrysler 300 replacement had similar dimensions to the Dodge Charger Daytona.
Beyond these details, information on the electric sedan that will replace the 300 is scarce. With the report claiming that the electric vehicle will be similar in size to the Charger Daytona isn't surprising, as we expect both vehicles to utilize the same STLA Large platform. While the vehicles are expected to share the same platform, we doubt that they will have a similar styling. The Charger Daytona is expected to be an electric muscle car with two doors and based on the report, it sounds like an electric replacement for the 300 that will be a sedan with a coupe-inspired design.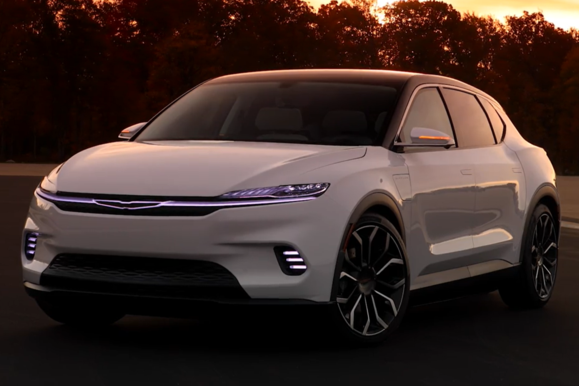 There's a good chance that whatever electric car Chrysler comes out with to replace the 300 could get similar styling to the Airflow that's supposed to be introduced as an all-new model for 2025. The Airflow features a sweeping roofline, slim headlights, a tiny grille , and dramatically styled taillights that are connected. From what we've seen of the Airflow, it looks like a compact SUV with a sporty roofline like the Ford Mustang Mach-E and Volvo C40 recharge.
At the moment, all of the information we have about the 300's all-electric successor is based on rumors. Earlier reports claimed that the EV was scheduled to come out in 2026 and have between 201 and 443 horsepower. Chrysler is expected to fit the EV with an 800-volt architecture for rapid recharge times.
We expect to get more information on the electric replacement for the 300 in the near future. Chrysler announced plans to become an all-electric brand by 2028 at the beginning of 2022. To do that, it's going to need to have some electric vehicles on sale soon.
Pictured: 2023 Chrysler 300 (Top), 2025 Chrysler Airflow (Middle)
Source: Autoblog
Explore the Best EV & Hybrid Deals