Cadillac may be switching its focus to electric vehicles with plans to launch three EVs this year, but the American automaker still knows how to make a sports sedan. The available, but incredibly hard-to-find Cadillac CT5-V Blackwing is one of the best sports sedans currently on sale – it might even be one of the best sports sedans ever made. Unfortunately, drivers who want to purchase a 2024 CT5-V Blackwing are looking at spending more than last year.
According to order guide data, the 2024 CT5-V Blackwing is getting a $1,500 price increase. Last year, the sedan started at $93,390 (with destination). For 2024, the high-performance sedan will start at $93,390 for models with the six-speed manual transmission. Shoppers who opt for the 10-speed automatic transmission are looking at spending $98,065, as opposed to $96,565 last year.
The increase for the CT5-V Blackwing is a hefty one, especially when you see that the regular CT5-V has gone up by just $500. While pricing has gone up, the good news is that the CT5-V Blackwing will continue to come with a supercharged 6.2-liter V8 engine that produces 668 horsepower. It's also one of the few sedans left in the segment that's rear-wheel drive only and is offered with a manual transmission. It's a unicorn and with the change in pricing, it's priced like one.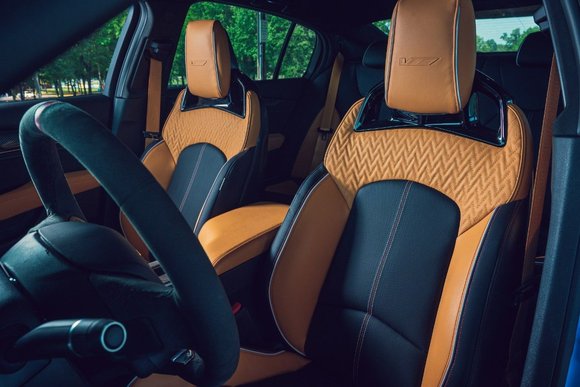 The major change that Cadillac made to the CT5-V Blackwing was the introduction of the 20th Anniversary of the V-Series Commemorative content – ​​yes, that's its full name – as standard equipment. The package includes a 20th Anniversary grille header decal and a unique animation in the instrument cluster. Cadillac has also added a few new exterior colors for the CT5-V Blackwing with Velocity Red, Cyber ​​Yellow Metallic, Coastal Blue Metallic, and Black Diamond Tricoat. We're not sure if these paint jobs will be extra, but if they are, they should cost $625.
Seeing the CT5-V Blackwing arrive with a higher price tag for 2024 is disheartening, but at this point, we're just happy to see it return for another model year.
Pictured: 2024 Cadillac CT5-V Blackwing (Top), 2023 Cadillac CT5-V Blackwing (Middle)